USeven Omkhulu
From eKasi to Nkayi then Babourfields
Muziwakhe Dlamini streaks away from an opponent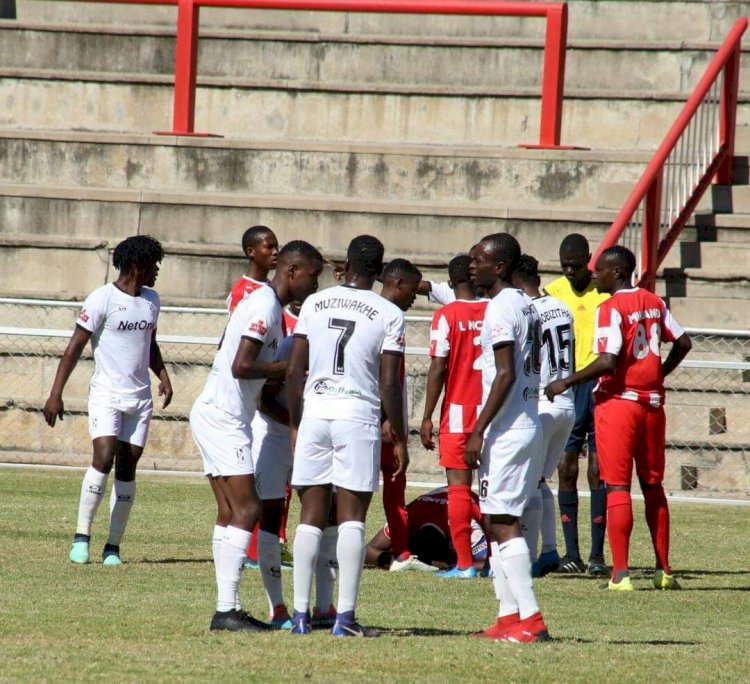 Seven Is The Number(Useven Omkhulu)
There is always a temptation to link every bright prospect at Highlanders with Makokoba,Mzlikazi or at the very least Mpopoma.In most cases than not the temptation is too great to resist.It then becomes an uphill task to go down that tattered road or that path that we call Nkayi road and emerge from it with a tale of a jewel.The story of Muziwakhe Dlamini cannot be told without mentioning Nkayi and Hlangabeza High School.
A friend and a workmate then,Sihawu Gumbi is the first person to tell me about the young man,he said that he did with the ball what many professionals players can only dream of.It was in September of 2012 that I then saw USeven doing his craft.Entertaining yet so effective.The opposing crowd cheered his every touch as his Nkayi Utd team edged Allstars of Guwe at a field affectionately known as Maglas Stadium.I knew one day he will be on the back pages…
Well he made it to the back pages eventually.In certain systems it is easier for you to be jettisoned into the limelight if your name is Onwell Gombami,Ray Lunga or Mbongeni Ndlovu,you can name drop and find your way from Bosso 90 to the first team,if your name is Muziwakhe Dlamini you might be over looked,see your peers being promoted while you have to go to CIWU football club in the same unfashionable Southern Region Division one league and work your socks off.
Being the big number seven that you are you then illuminate the scene with top notch performances and classic goals such that you can no longer be denied.You knock so loud that it becomes impossible to ignore you.So with the world batting with the Corona Virus,in 2021 you finally see yourself featuring in the plans of the oldest team in your country's premier league.
It is when you are on the center stage and in that famous black and white strip that the people who backed you the most are normally forgotten and pushed to the periphery of your story.One such person would be Mr M Maphosa who taught Muzi at Hlangabeza High School.
"He was a well behaved student. He mixed well with his peers." Mr Maphosa responded on the conduct of the player as a student.He picked out a tournament as one of the memorable moments he watched Dlamini at his best.
"Yes, that was when we won the NASH Under 20 provincial games for Matabeleland North. The tournament was played at the ZPC grounds the host school being Gebhuza High whom we beat in the final match. He played his heart out throughout the tournament. It was not an easy tournament because on our way to the finals we played teams from Hwange district who were not pushovers but we managed to go back to Hlangabeza the champions of Matabeleland North and some Division One teams from Hwange were after his signature unfortunately by then he was playing for Nkayi United which one was in Division Two in the Eastern region." He responded.
Mr Maphosa believes that the player should have made it to the big stage earlier adding "For coaches who choose players by merit he should have long played in the Premier League. If given game time at Highlanders I believe there will be a goals galore because of him and chances of Bosso losing him are high because the young man is quality. There is no substitute for quality"
A long time friend of Muzi,Webster Muleya echoed the sentiments of their former teacher "He was exceptional , our captain and the best player i played with,there was a game vs Gebhuza at ZPC stadium, we won the match on penalties after drawing 2-2 then we advanced to nationals after being champions of Matebeleland north,he made us tick'
"We called him Cardoza or Seven because he loves the number seven" Webster said.
His brother Dalisizwe Dlamini said that theirs is a family full of sports people.
" I'm told my Dad was good in football probably that's where we got it from. Most of my brothers were equally good in football but decided to pursue other things. I guess me and Muzi were the only ones to take it as a career." He said.
Dalisizwe also highlighted that Muzi has got the backing of the entire family
"He was good academically, he decided football was a path for him and I believe the whole family are fully behind him. We always root for him to achieve his dreams."
A former teammate Sihwa weighed with the notion that the number seven should have been given an opportunity earlier.
"He was long overdue ,to me the way he was playing would have taken him beyond Highlanders,When he was at Nkayi United,he was playing behind strikers ,he had an advantage of using both legs and could be used as a forward when goals were not Coming, plus he was a dribbling wizard, just like Cristiano step over bro he was a joy to watch" Sihwa added with a laugh
Muziwakhe Dlamini is a name that is associated with fond memories in Nkayi.He is just a Kasi boy who had a dream to play in front of a packed Soweto stand,maybe,just maybe he may still live to see it all play out.
Fortune favours the brave
Reuben Tawanda CaptainRT