DONATELLA : MLUE JAY'S MUSE
Mlue Jay
There are life occurrences in which inspiration is drawn and often times the birth of a child not only bring about joy and happiness but a sense of pride and belonging , Bulawayo born and South African based Hip hop prodigy and the reigning Zim hip hop awards best diaspora artiste, Mlue Jay, Drew his inspiration from his daughter for the debut 18 track Album called Donatella.
The album is dedicated to his two year old daughter and carries her name.
In the lead track Donatella Mlue Jay vows to give everything to his daughter and work twice as hard to ensure that he achieves his goals and provide the best life to his family.
Mlue Jay and Donatella
Mlue Jay has received much support and attention with his latest, from being featured on South Africa's number one podcast, The hangout with Mcgee and being the first Zimbabwean to be featured on the podcast. The album has been receiving raving reviews in the music streets both in Zimbabwe and South Africa, with one Facebook user describing the project as Mlue Jay's best body of work thus far.
South African artist, web influencer and entrepreneur Daniel Marven (KE SHARP) described Mlue Jay as someone who is single handled carrying the South African hip hop.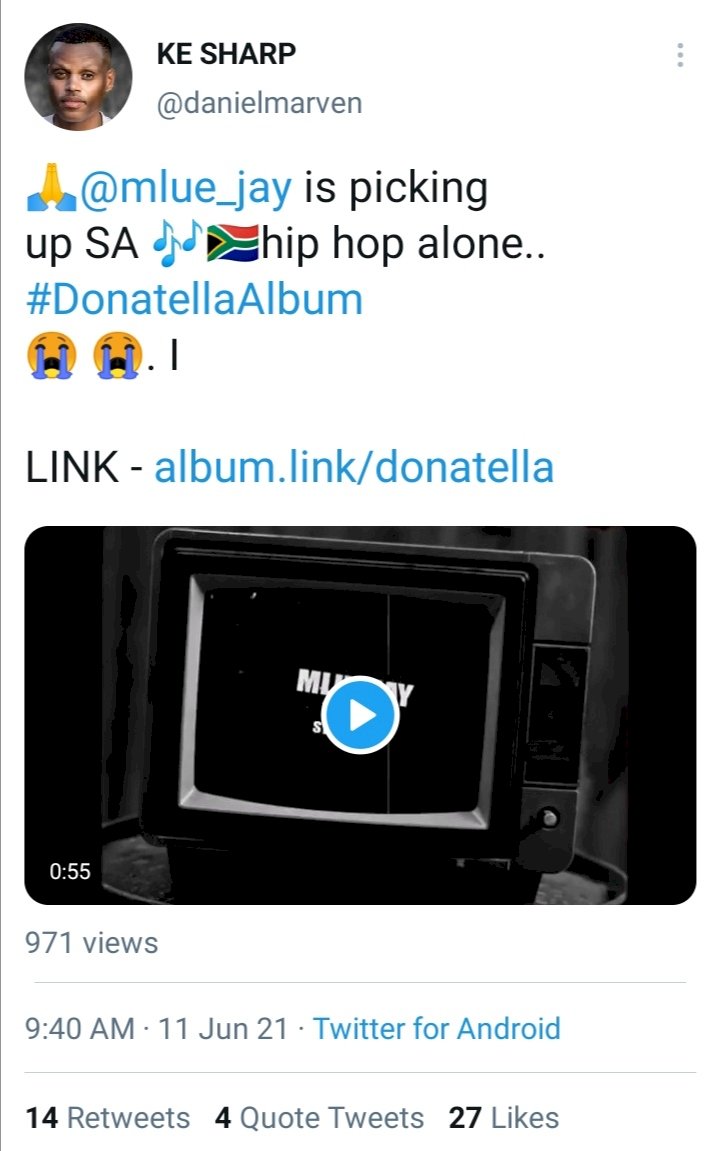 "This Album is a gift from me to the world. This is my debut project that I take really seriously and I have done everything in my power to make it outstanding."
When quizzed about the response the Album has received from his audience , he had this to say, "The response has been positive honestly, I haven't heard or seen anyone talking bad about instead am getting a lot of messages from people telling me their favorites."
The Album features the late Calvin, Ngu Doni, Asaph, Brythreesixty, Sykotek, Vic Jita, Everything's Ghost, Dopey and Gunxdapharoah.